Core Team
Spending time in nature sourcing pure food and water gives us the best sustenance. It simultaneously incentivizes us to examine how we can protect and restore the earth's endless beauty. These fundamentals are what inspires Chris as Executive Director.
In 2014 Chris realized almost all spring water available for purchase was ultra processed and typically stored in toxic plastic. He started sourcing his own water through a local spring located on Find A Spring and felt an immediate increase in Vitality. He started the Alive Water brand by providing his nearby community with jugs filled by hand. The business has evolved and now delivers fresh living spring water in reusable glass to over 3,000 families and businesses. Alive Water also designs and manufacturers the world's best objects for collecting, transporting, and enjoying water. A portion of all profits goes directly into funding the Find A Spring Foundation, which he formed in 2020.
Chris strives to live immersed in nature, deepening an ever growing relationship. Hunting and gathering plants, wild game, and cold and hot springs are some of his favorite things. He also enjoys planting and cultivating typical and exotic fruit trees for his friends, family, and future generations. 
Instagram – @gaiaguardian
Dakota Chanel is an ordained water priestess and ceremonialist with over a decade of experience. She specializes in water priestess temple arts, sacred relationships, and sanctified sexuality. Dakota is the founder of the Water Priestess Mystery School, Worship ceremonies for lovers, and offers courses on Female Ejaculation and Ritual Washing. She also loves teaching in person through her international Retreats.
Dakota sees water as the divine mother of us all and it is her greatest joy to support women to align with this deep, unwavering love. She has supported thousands of women in over 15 countries to remember the sacredness of water and their bodies.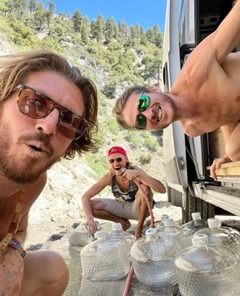 Warren Co-founded the Anandamide raw & handmade chocolates shop in Long Beach, Ca 2012 – 2019, where they sourced wild harvested Arriba Nacional Ecuadorean cacao, thus supporting many small communities in Ecuador to thrive, and doing this in a way in harmony with the rainforest as well.
From 2017 – present day, he is the North American Co-Founder of the International Kairao / Centro Awavãna organization, an indigenous amazonian organization that holds space for the spiritual study and cultural preservation / continuation of the traditional ways of the Yawanawa tribe of Acre, Brazil.
Present Day – Director Of Operations @ Alive Water and Co-Founder of the Find A Spring 501c3 Organization
Instagram – @wildgaeanwaters